Bosnia and Herzegovina was a war-stricken country in the early 1990's, but more than two decades after the horrifying atrocities, they have rebuilt. No more war zone, crumbling buildings, and hungry survivors, instead, what lies in the city streets are skyscrapers and big shopping centers with billboards of the latest fashion. Tourism had increased each year and if you have plans of visiting the country, read through the 5 cool places to visit when in Bosnia and Herzegovina.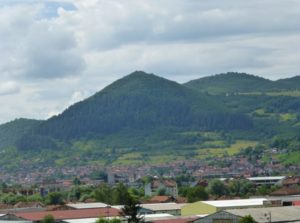 BOSNIAN PYRAMID
People might think that only Egypt and Mexico have the claim to ancient pyramids but no one would think that Bosnia and Herzegovina is home to the oldest man made pyramid dating back to 30,000 years ago. It's still a big controversy up to now because most experts won't accept the fact that this is the biggest and oldest pyramid in the world dwarfing even the Pyramid of Giza.
TITO'S NUCLEAR BUNKER
This top-secret nuclear bunker carved in the intestines of the adjacent mountain. A seemingly innocent small house is the entrance to this underground bunker that can house 350 officials for up to 6 months. For 26 years, Josip Broz Tito orders the creation of this secret bunker and was completed in 1979. Now an art gallery, walking down its thick hallways will also take you back to Yugoslavia in 1950's.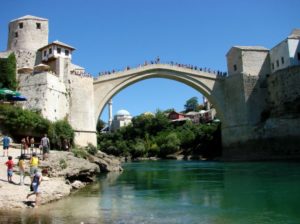 STARI MOST
One of the most popular landmark of the country, Stari Most meaning Old Bridge, is a beautiful bridge that was ruined during the war but was now reconstructed. A UNESCO World Heritage, this bridge was built more than 400 years ago but was destroyed during the 1993 war, only in 2004 was it rebuilt. And if you want to see something crazy and adventurous, watch as some daring locals do bridge jumping. Annually there is a big Bridge Diving Competition held here and it's one big weekend party for locals and tourists.
KRAVICA WATERFALL
A breathtaking masterpiece of nature, the Kravica Waterfall, is the mini version of Argentina's Iguazu Falls. This 75-meter waterfall is in the heart of the Perucica forest, known to be the last primeval jungle of Europe. Go swimming in its natural water pools and inject some thrill by trying the rope swing.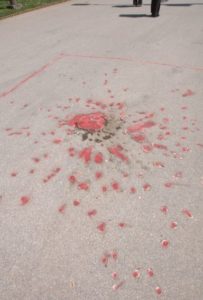 SARAJEVO ROSES
Wherever you go in this country, you will definitely see war relics and monuments, a proof that no matter how devastating the war was, the people still commemorated it because many of their loved ones have sacrificed their lives. A daily average of 300 shells would bombard the towns and leave craters on the streets of Sarajevo. Many of these battle scars are filled with red paint to mark casualties and these are now called the Sarajevo Roses because of the rose pattern it resembles.